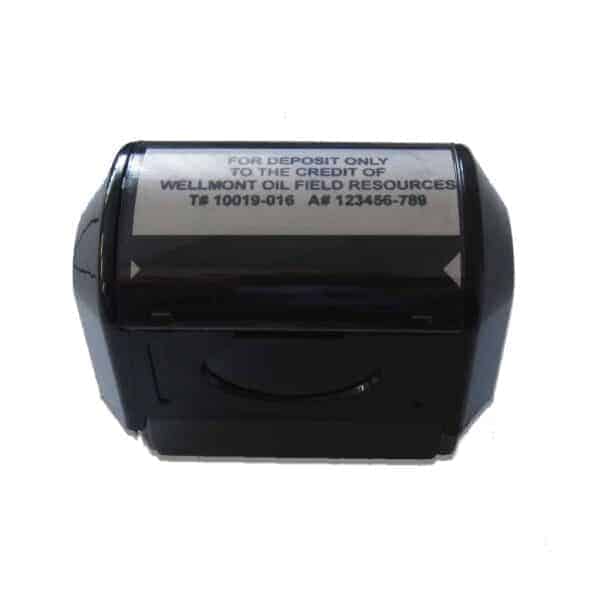 FREE delivery in Canada
Self-inking bank deposit stamp
Choose a bank deposit stamp OR address stamp
Refillable ink pad
Available in three ink colours
$51.00 CAD each + applicable taxes
Save $7.00 when bank deposit stamps are ordered with another item
**Enter your preferred quantity below to add product to your order.**
Upon placing your order on the Checkout page, our team will review and process your order using the information and design options you enter below.
Address and Bank Deposit Stamps
Save time by streamlining repetitive tasks with a cheque stamp from Cheque Print. A self-inking address or cheque stamp will make it easier to send a letter or deposit a cheque, and they make sure that the address and routing information are always correct and legible. With Cheque Print, you can customize a bank deposit stamp with your company name, business details and routing information, or you can create an address stamp. You no longer need to endorse cheques by hand – get a bank deposit stamp in Canada from Cheque Print! Simply fill out your business information to get started with a custom address or cheque stamp.
Customize a Cheque Stamp
Choose between a cheque deposited stamp or an address stamp. You can also customize your cheque stamp by selecting one of three ink colours (black, red or blue). Our address and deposit stamps are self-inking, meaning that they automatically re-ink after each stamp. When the ink runs out, simply refill it with new ink to continue using the cheque stamp. You can save time and money for years with a bank deposit stamp from Cheque Print.
Free Shipping on Bank Deposit Stamps
Just like the shipping for our business cheques and other accessories, Cheque Print offers free shipping in Canada on our bank deposit stamps. You can also save more when you purchase a cheque stamp with another item. To ensure you receive the highest quality stamp, we'll review your order before creating your custom address or cheque stamp. If you are not completely satisfied with your address or cheque stamp, contact our customer service team and we'll fix any issues. We want your stamp to arrive exactly as you expected it to. Fill out the form above to order a custom bank deposit stamp.
How to Order Address & Bank Deposit Stamps
Get started on your address or cheque deposited stamps by selecting the quantity above. The price includes set-up, PDF proof, delivery and taxes, so you can be sure that your order includes everything you need and avoids any surprises. Since the address and deposit stamps are self-inking, you can refill the stamps to continue using them for years. Start your order above for an address or bank deposit stamp from Cheque Print.