Where to find your Canadian cheque account number
When I first started working here at Cheque Print, I knew very little about what cheques were. As I trained for this job, I learned a lot. For example, there are specific guidelines for what can be printed on a cheque and where those items must be placed. Another key thing is that cheques are printed on secure stock, not just any old sheet of paper! I also learned about the little characters at the bottom of every Canadian cheque. Those characters provide all the information your bank needs to process your cheque when it is deposited.
Read more about specific requirements for a laser cheque
MICR Encoding
The black characters at the bottom of every cheque are known as the MICR encoding line. MICR stands for "Magnetic Image Character Recognition". MICR encoding has lots of valuable information including the cheque number, your branch's transit number, the institution code and your personal account number. These characters are printed using a special magnetic ink. Take a look at the cheque below with sample information, to see what I'm talking about.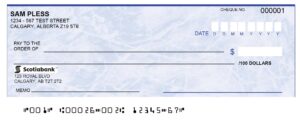 Did you know: You can order high-quality cheques fast,
just by taking a picture of an existing cheque and uploading it?
Get 10% off your first order with Cheque Print! Discount code automatically applied.
Cheque Number
This section of characters corresponds to the cheque number found on the top right corner of your cheque. It may be only two or three digits or as many as six digits. For the most part, it is up to your preference but many Canadian banks are beginning to require six digit cheque numbers in the MICR line.
Transit Number
This number is always five digits on Canadian cheques. It indicates which branch you opened your account at (often called your home branch). Even if you move cities and the branch you bank at changes, this number will always stay the same as long as you use the same Canadian cheque account number.
Institution Code
This number is always three digits. These three digits indicate what bank you use. All locations of the same bank will have the same three-digit institution code. (For example, Bank of Montreal is 001, Scotiabank is 002, Royal Bank of Canada is 003, TD Canada Trust is 004, etc.)
Account number
This section can be anywhere from seven to twelve digits long, it all depends on your bank! These digits might be one long string of numbers or they may be split up by spaces or dashes. No matter what the configuration, this is your cheque's account number.
I hope this quick breakdown helped teach you something you didn't already know. If you have further questions, please check out our FAQ section or contact us directly! Someone at our office will be able to help you out.
Kirsten – Cheque Specialist, Cheque Print Solutions